Massage Therapy Serving Bangor, Ellsworth and Brewer
Back in Balance Wellness Center also provides Massage Therapy for the cities of Bangor, Ellsworth, Brewer, Orono and Hampden.
Massage Therapy at Back in Balance Wellness Center is a wonderful way to reduce stress, relax muscles, soothe away pain, and enhance your spinal corrections. Our clinic's team approach will pin point your specific needs, creating a care plan to help you reach your individual health and wellness goals.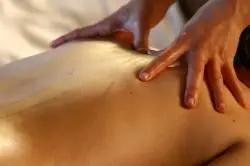 Whether you are recovering from an injury or surgery, preparing for an athletic event, combining chiropractic and massage into an active care program, or just seeking relaxation and a little pampering - the massage therapists at Back in Balance Wellness Center can help!
Our teams of experienced therapists are extremely passionate about health, wellness and basically all things relaxation! We believe that true health comes from within and that removing stress allows for the body to function more optimally.
Deep tissue, myofascial release technique, prenatal massage, neuromuscular reeducation, corporate chair massage, trigger point therapy, and sports massage are just some of our specialties; however, for a full listing please view our spa menu.
One of the options for massage therapy in Bangor, Ellsworth and Brewer areas is a Corporate Chair Massage. These are ideal because they offer pain, tension, and stress reduction for the back, shoulders, neck and arms. If you have a tight feeling in this area, our professionals can help you!
During a corporate chair massage, you'll be in a seated position with your face resting in a cradle. You'll look towards the floor while your arms remain supported and in a comfortable position. This position helps relax your neck and upper back and gives our therapist the ability to work the muscle tension away. We'll use a variety of massage methods including Swedish massages such as compression and kneading to relax muscles. Our massage therapist will customize any method to meet your needs.
Corporate chair massage is a fantastic option for those who need stress relief. It works very well after a long day at work. By stopping in for a corporate chair massage now, you'll potentially reduce the risk of a more significant and painful muscle spasm later. We encourage corporate chair massages to anyone who doesn't want oils and wants to remain in their clothing during the experience.
What Conditions Can Massages Help Improve?
Massages offer a wide range of health improvements. When you come in for a treatment, we'll choose massage techniques based on the specific areas of concern impacting you. Massages can be the ideal tool for improving relaxation and overall well-being. It can help reduce pain and improve range of motion for many people. In addition to this, some potential benefits to massages include:
Improving physical relaxation ability
Relieving tight muscles such as knots as well as aching or painful muscles
Improving circulation
Improving range of motion and flexibility
Encouraging enhanced energy levels
Massage for pain and functional limitations have been shown to be helpful in people suffering from carpal tunnel, myofascial pain, varicose vein pain, scoliosis and sciatica. It can also help to manage or relieve the symptoms of rheumatoid arthritis, gout, hypertension and congestive heart failure, diabetes and heart disease. It also can be helpful in improving overall emotional and psychological ailments including reducing anxiety and stress levels, improving sleep patterns, improving immune system function and improving moods.
How Can You Pay for Massage Services?
When you come in for massage therapy in Bangor and Ellsworth, we'll provide you with comprehensive care designed to meet your specific needs. You do have options when it comes to payment. We're happy to bill your insurance company for you if you have coverage. Many of our patients do have chiropractic and wellness care coverage.
We also accept cash, check and credit cards of course!
Additionally, you can also utilize a wide range of payment plans available to those who need more flexible payment solutions. Flex card payments are available for many people seeking massage care. You don't have to suffer from pain and discomfort. Call our team to schedule an appointment for a massage or to discuss your specific needs with our team and massage therapist.
Massage Therapy appointments are available Monday – Friday and we often have same day appointments available.
Call Back in Balance Wellness Center serving Bangor, Ellsworth and Brewer at (207) 947-8077 to reserve your massage today!
Bangor Massage Therapy | Brewer Massage Therapy | Ellsworth Massage Therapy