Today, our patients have more options than ever to help improve the way their body functions. At Back In Balance Wellness Center, our goal is to provide you with an advanced care that offers holistic treatment to the pain you feel. One of the services we offer is cupping therapy. This is a noninvasive method of pain relief available to you in our Bangor and Ellsworth office.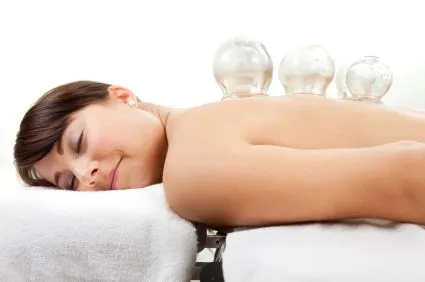 What Is Cupping?
It's the first question many of our patients have. Cupping is a noninvasive procedure in which we'll create a vacuum on your skin. We do this by applying cups made from ceramic, glass, metal, brass, or bamboo to your body. The cups do not cause any pain to you. However, when placed on your skin, usually in the area where you have pain and a buildup of tension, they work to stimulate the flow of blood to that particular area. In doing so, it works as a natural type of treatment for the pain you feel in that area.
Cupping can be used for various benefits. This includes as a way to relax and improve your overall wellbeing. You may also see it used for those who have a significant amount of inflammation to a specific area, such as after an injury.
When Can Cupping Be Used?
When you come in for acupuncture treatment in Bangor and Ellsworth, our team will talk to you about the best type of treatment for your needs. Often, we recommend cupping alongside other treatments we offer including herbal medicine and traditional needling that's commonly known as acupuncture. Among the types of pain and discomfort that cupping can help with are the following:
Arthritis pain
Chronic coughing
Indigestion
Menstruation pain
Hypertension
Tendonitis
Sprains
Chronic pain
Fertility concerns
Skin problems
Anemia and hemophilia
Anxiety and depression
Lower back pain
If you are experiencing any type of pain, we recommend coming in for an acupuncture treatment in Bangor and Ellsworth as a first step. From there, we can determine if cupping is the right way to further your treatment.
What Are the Benefits of Cupping?
Benefits are numerous for cupping. For example, it is noninvasive meaning there is no recovery time. It also does not cause any limitations on your ability to go back to work that day. You'll see that it is very effective with few side effects. And, it is holistic. That means that cupping works very well to stimulate a natural healing ability in the body without any use of pain medications or invasive surgeries. And, it can help those who have struggled to find solutions to their pain from traditional medicine. For all of these reasons, there are many reasons to choose cupping.
Schedule a Consultation with Your Acupuncturist Serving Bangor, Ellsworth and Brewer Today
For pain relief, improved overall wellbeing, and stimulated healing, turn to cupping. Our acupuncturist serving Bangor, Ellsworth and Brewer is available to discuss the potential benefits cupping can offer to your needs. Call Back In Balance Wellness Center now: (207) 947-8077.